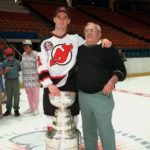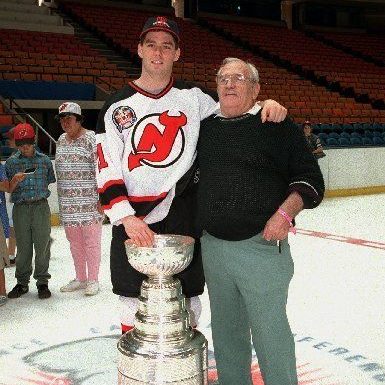 My whole family loves the Tourma Tape. My shoulder, which I had surgery on now feels fantastic. We are all sleeping more soundly with our Tourma Blankets too. Our cat Squirtle also loves his Tourma Mat. Every family should at least try these products, until they do, they don't know what they are missing!
Jim Dowd
Point Pleasant Beach, NJ
1995 Stanley Cup Champion NJ Devils
17 Year NHL Veteran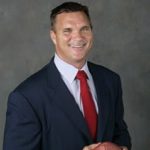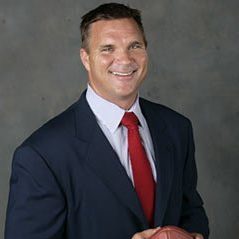 I recently met Fred at a party for another business a few weeks ago. We started up a conversation and he told me about products he made from tourmaline. He let me try some of the products after I explained that I had acute soreness in my left knee. After 12 years in the NFL, I often am afflicted with pain that I can't always explain.
He gave me wrist bands, socks, and even a blanket to sleep with, all made with tourmaline
I haven't gone a day without using any of these products and I am thrilled that not only has the pain in my left knee subsided, but the general pain in my whole body is diminished.
As a result I stopped even taking an Aleve each morning and have no plans to take any more.
Sincerely,
Brian "Baldy" Baldinger
NFL Network Analyst & Host
NFL 12 Year Veteran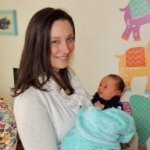 Using the FIR blanket for the duration of my pregnancy not only helped me experience relief from my discomfort but also made me feel safe because the FIR blanket is the only one that I could find on the market that converts body heat into therapeutic far infrared energy, as well as producing a negative ionic field, which promotes good health.  The blanket is activated by your own body temperature- opposed to it using an external heating device that could possibly raise your body temperature to a degree that could be harmful during gestation. Since our baby arrived, we've noticed he calms down much quicker when we wrap him in his FIR blanket compared to a regular receiving blanket. To me it just makes sense to upgrade all of our fabrics to ones that contain FIR technology for its added benefits.
Dr. Ren
Union, NJ
America's Holistic Sweetheart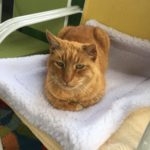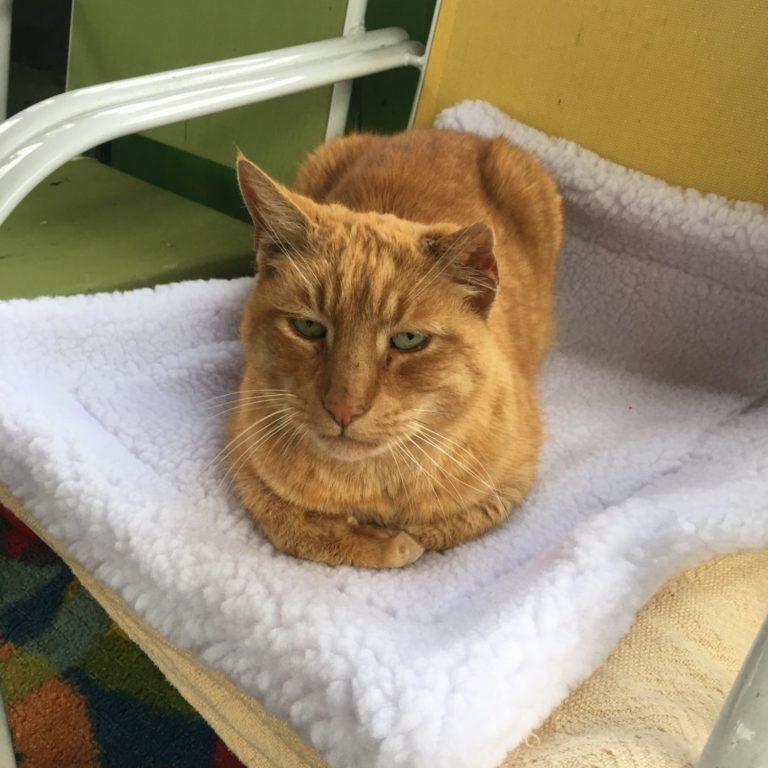 Since sleeping on the Pet Mat, our 18 year old Tabby cat Tig Tig who is arthritic has been running around like a kitten. He chases down chipmunks, mice and birds and has an increased appetite. I also noticed less fur falling out, an improvement to his hearing and clarity in his eyes. Our two Bengal cats use their Pet Mats and blankets daily. Yes,  they have both, since sharing doesn't apply to Bengals! Their coats are shiny and their appetites are hardy.

Cary Plucinsky
Mahwah, NJ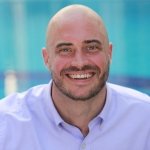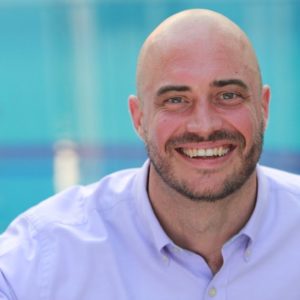 I tried the tape and purchased a blanket.
With the tape I used it on my left wrist which was hurting at the time as well as having radiating 5th finger sensation. As soon as I put on the tape I felt immediate changes. Pain reduction and a decrease in my radiculopathy. Come to think of it, I have not had either symptom since.
When it comes to the blanket. Upon awakening the first morning I felt more rested than I had in months and I also had to take off the other blankets because the warmth with this blanket was plenty for me. I also notice that when I use the blanket while reading I feel more comfortable and relaxed over all.
I would highly recommend anyone with pain or other symptoms to give these products a try. The more I research the effects of far infra red technology the more I am impressed!!
Thank you FIR!!
Dr. Kevin Gyurina Chiropractor
Collingswood, NJ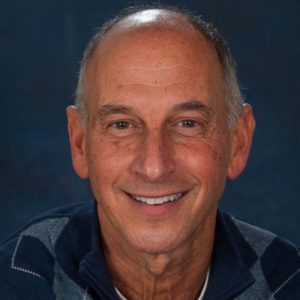 The FIR tourmaline tape worked great when I used it on joints!! …Whether it wan an ankle, shoulder, wrist or fingers - patients all seem to have said the same thing: :I feel I'm already moving better!" The tape in conjunction with the adjustment did wonders!!!!
Dr. Steven M Riess, Chiropractor -
Plainview, NY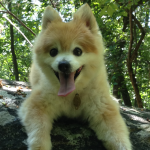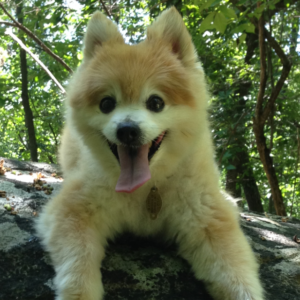 My Daddy is always taking me on hikes and we have seen a lot of trails in the past 13 years. He expects me to last into my 20s, which I heard is uncommon for a dog. He told me that I need nutritious food, a lot of good quality sleep and plenty of exercise. Sometimes by the time we get home, I am pooped out and sore all over. After I sleep on my Tourma®Mat for Pets, I get up in the morning feeling great and ready to take on the highest mountain!
Tony the Tourmaline Dog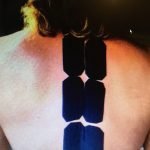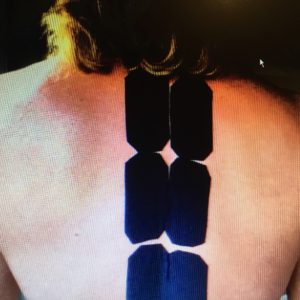 Since Dr. Evangel and Fred Dombrow introduced me to  to the Tourma Blanket in March, I don't ever remember  sleeping as well as I do now. I feel ready to go every day. I use the Tourma Tape as advised,  for different issues with great results . My MD is amazed at how little I see her since I been using these, as I have many different issues  and now I live drug free and with no side effects,  except feeling good . My wife and mother-in-law use the tape and all have blankets,  with the same or similar results. Our cats are of great importance to us and all three have Pet Mats and blankets that I cut up for all of their beds to make them feel comfortable. All of the cats  love their beds and blankets too. Their fur shines , they are more energetic and  are happy ! One of them is 20 years old and there is a big difference in energy, demeanor and looks .
Thank You Dr Evangel and Fred Dombrow !!!
Ronnie Bodnar
Mahwah, NJ